Berry Cave is the first cave mentioned in WildARMs Alter Code F that Rudy visited during his work in Surf Village . On entrance , village guard gives you 3 Lucky Cards , Migrant Seal .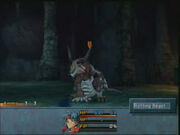 Boss in this cave is
Rotting Beast
. After defeating him ,
Rudy
is forced to leave
Surf Village
, since people are not used to that kind of powers ( such as
ARM
) .
Ad blocker interference detected!
Wikia is a free-to-use site that makes money from advertising. We have a modified experience for viewers using ad blockers

Wikia is not accessible if you've made further modifications. Remove the custom ad blocker rule(s) and the page will load as expected.