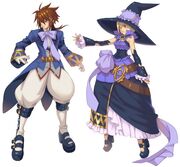 Class Description
The Elementalist is one of the initial four general job classes available to the player at the start of the game. The Elementalist specializes in offensive magic revolving around the four elements. Elementalist have a high MAG stat and a high RES stat -- meaning their spells are powerful and they take less damage from enemy magic attacks. Their weakness is that they have little defense, lower HP, and poor physical attack. They also have a limited range of movement that may make maneuvering them into a useful spot on the battlefield difficult, although this is somewhat nullified by the fact all of their spells are long distance.
The elementalist equips magical books for weapons and rings for armor. Rings have an additional attribute of increasing the equipped unit's EVA stat until it's next turn if the unit waits in the same HEX without moving.
Original Commands
Original Commands are techniques that can be used in battle provided the needed requirements are met.
| Command | Description | MP Cost |
| --- | --- | --- |
| Crush | Earth-elemental attack. Cannot be used after moving. | 16 |
| Freeze | Water-elemental attack. Cannot be used after moving. | 16 |
| Fire | Fire-elemental attack. Cannot be used after moving. | 16 |
| Vortex | Wind-elemental magic attack. Cannot be used after moving. | 16 |
Personal Skills
These skills activate automatically for units in the Elementalist class. When enough CSP is gained these skills can also be equipped by the unit even when it switches to a different class. The special skill is superior skill learned when a character has mastered their class.
| Skill | Description |
| --- | --- |
| Elementalist OC | Allows the unit to use Elementalist Originals |
| Elementalist EQ | Allows the unit to equip Elementalist equipment. |
| Wait and Heal MP | Recovers MP when the unit uses the Wait command without moving. |
| Crisis Conserve MP | Reduces the cost of skills by 25% when the unit is in Crisis status. |
| Magic Block | Randomly nullifies magic attacks. |
| Mag + 25% | Increases the unit's MAG parameter by 25% |
| Special Skill | Description |
| Reflect | Reflects attacks nullified by Magic Block back to the opponent. |
Ad blocker interference detected!
Wikia is a free-to-use site that makes money from advertising. We have a modified experience for viewers using ad blockers

Wikia is not accessible if you've made further modifications. Remove the custom ad blocker rule(s) and the page will load as expected.