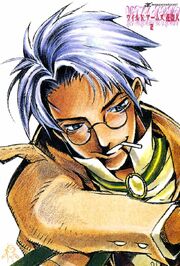 Guy or Gi is one of the main protagonists of the Wild Arms: Flower Thieves comic. He is a florist who owns a flower shop in the trade city of Upperhorse, but he leaves the shop behind to travel with Maxi and Jessica. At 24-years-old, he is a friendly, easygoing and gentlemanly personality with a dream of bringing fertility to the world.
Ad blocker interference detected!
Wikia is a free-to-use site that makes money from advertising. We have a modified experience for viewers using ad blockers

Wikia is not accessible if you've made further modifications. Remove the custom ad blocker rule(s) and the page will load as expected.