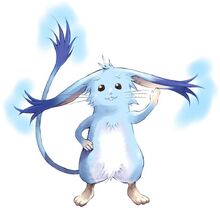 Wild Arms
Hanpan is Jack's friend, partner, and occasional comedic foil. As a wind mouse, Hanpan is long lived, experienced, and possesses a dry wit. He provides the wisdom and 'deep thinking' to Jack's more rash actions.
Hanpan also serves as a 'tool' for Jack to use, and can quickly hop over small breaches to reach far-away objects. Hanpan also provides a boost to some of Jack's Fast Draw techniques, greatly increasing their damage.
Despite the popularity of the character, and the amount of dialog he gets, Hanpan reveals little about the nature of 'Wind Mice', or himself. He's definitely hundreds of years old, for instance, but he doesn't quite reveal just how old he is.
Wild Arms Alter Code Biography
Hanpan is a spirit animal called a wind mouse. He is Jack's partner and has a lot of knowledge about ancient ruins.
Popepi Pipepo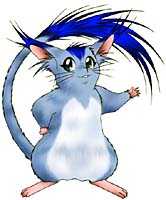 The televised anime "Twilight Venom" has wind mice belong to the race of "
Popepi Pipepo
", with extremely similar character designs and some background details as to Hanpan. Though there is nothing in either the series or game to assign Hanpan specifically to this race, the common conclusion is that Twlight Venom's "Popepi Pipepo" and Wild Arm's "Wind Mice" are one and the same.
Trivia
As noted, Hanpan is one of the most enduring characters of the series - appearing in many of the series promotional art - even with characters which he has no connection to, to this effect, he can be seen as a semi-mascot.
In the original Wild Arms, Hanpan was also deployed in one of Jack's special attacks - pickpocket. Seeing as stealing items wasn't really prevalent in the original, this was something of a novelty ability; and was all together removed in Alter Code F - seeing as Jane is the official 'thief' of the game.
Gallery