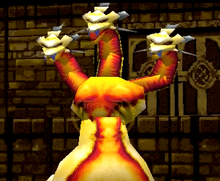 Javawalk is the third opponent you battle in the Ancient Arena, and can be considered a tough opponent.
He has a high defense, high HP, and a strong attack, Anti-Matter Bomb, which can deal around 1500-2000 damage to your entire party, and also the ability to inflict disease.
ts appearance is similar to the Aspick found in Pandemonium having your different colors and abilities.
Statistics