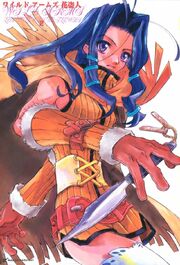 Jessica (Japanese: ジェチカ Hepburn: Jechika) is a one of the three main protagonists of the Wild Arms: Flower Thieves comics. Given her attire, she seems to be a member of the Baskar tribe. She is 14 years old. Her hair goes back and forth between being colored green, purple, and black depending on the chapter (Guy in the first chapter specifically refers to her as "pretty miss with the black hair"). She has an abrasive personality, especially towards Maxi, who may or may not have feelings for her. Her weapon of choice is a garrote, though she can also use Crest Sorcery.
Ad blocker interference detected!
Wikia is a free-to-use site that makes money from advertising. We have a modified experience for viewers using ad blockers

Wikia is not accessible if you've made further modifications. Remove the custom ad blocker rule(s) and the page will load as expected.