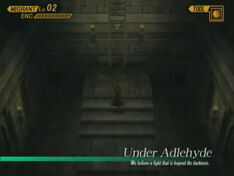 After this destruction , most people that survived were placed to Castle and you get rewarded for each you saved . Now your mission is to escape this castle where Justin wants you to stay ( not to lose Teardrop and face demons that are much stronger than Cecilia can handle even with her friends ) .
However , you must escape to force demons not to destroy anymore of this town . From one guard in room full of people , you will get "Shield Badge" , item you will use in central room on one wall that has shield picture on it ( close to sword picture wall side ) .
What to do in underground of Adlehyde ? Turn the water on so you can get to another side and exit castle , so you get exactly to town . There you will face Berserk .
Ad blocker interference detected!
Wikia is a free-to-use site that makes money from advertising. We have a modified experience for viewers using ad blockers

Wikia is not accessible if you've made further modifications. Remove the custom ad blocker rule(s) and the page will load as expected.