WILD ARMS.net was the Japanese homepage for the Wild Arms franchise, which offered updates about the games' releases, merchandise and exclusive multimedia. Notable about the website was its orange-and-yellow color scheme.
The website was recently revamped and most of the original content was removed. It's original web address now redirects to Playstation.com.
Wallpapers
A traditional custom of Japan.

A "kotatsu" being a table over a heater or brazier with a hanging quilt that retains the heat.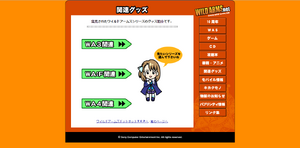 Links