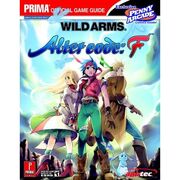 This is an English language strategy guide for Wild Arms Alter Code F published by Prima Games in 2005.
Advertised Key Features
• Detailed maps to show the locations of items
• Destroy all bosses with ease including Ragu O Ragula
• All optional areas explored
• All optional events covered
• Find all Ex File Keys
Product Details from Amazon.com
Paperback: 208 pages
Publisher: Prima Games (November 22, 2005)
Language: English
ISBN-10: 0761548769
ISBN-13: 978-0761548768
Product Dimensions: 10.7 x 8.3 x 0.4 inches
Ad blocker interference detected!
Wikia is a free-to-use site that makes money from advertising. We have a modified experience for viewers using ad blockers

Wikia is not accessible if you've made further modifications. Remove the custom ad blocker rule(s) and the page will load as expected.