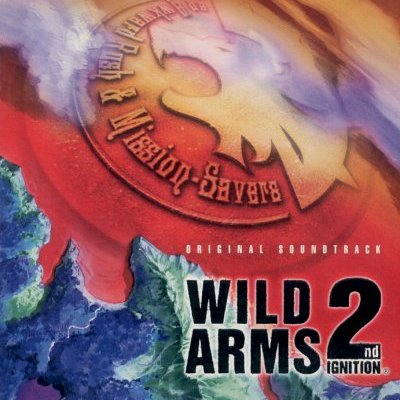 Wild Arms: 2nd Ignition Original Soundtrack is the incomplete original score to Media.Vision's 1999 RPG video game, Wild Arms 2.
Track listing
Disc 1
Time: 68:34
Main Title
Going Out
Dungeon: Exploring 1
Confusion in the Front
Chase
The Trouble Brewing Along
A Resolution
The Task at Hand
Dungeon: Front Battle 2
The Calm During the Storm
From Calamity to Dry Ground
Magical Girl Entrance
Wavering Feelings
Monster Haven
Victory!
Travelers
Dark, Calm Night
A Time of Good
First Ignition
Field: The Barren Lands
Field: The Lightning Sky
Field: Last Ignition
The Town to the Western Winds
Western Village
The Foreboding Star
Well Rested
Near the Seas
Stretch Farther than the Skies
A Blow of the Wind
Dungeon: Front Battle 1
Dungeon: Surprised 1
Dungeon: Surprised 2
Dungeon: Pinch Fight 1
Dungeon: Pinch Fight 2
Dungeon: Horror
Dungeon: Tension
Dungeon: Battle
Dungeon: Chapel
Dungeon: Odessa's Hideout
Dungeon: Monster World
Dungeon: Heimdal Gasso
Dungeon: The World that Anastasia Lives In
Dungeon: A Dangerous Place
Dungeon: Center of Fargaia
Castle
Guild Galad
Valeria Château
Live Reflector
Guardian
Tim and Collet
Operation ARMS' Theme
Odessa's Theme
Battle Force
Battle: Knight Blazer
Battle vs Mid Boss
Battle vs Solid
Battle vs Coctaurus
That Feeling that Someone is Watching
Battle vs Vincefelt
Battle vs Toka and Ge
Battle vs Child of the Kaiverbelt
Battle vs Edgeworth Kaiverbelt
You're Not Alone
Battle vs Lord Blazer
Battle vs Ragu-Ragura
Condition Green!
New Entrances
Before the Path of Righteousness
It's Clear
Trap and the Path
The New Sunset
WIN!
Game Over
Atomic Arms
Disc 2
Time: 74:02
Resistance Line (Extended Version)
Toka and Ge
Launch!
Boss Demo
Pure Darkness
The Plight of Anastasia
One Vanquisher of Evil
High Pressure
Fate
A New Chance
Battle Robot Jack
Promise Made On a Star
Fargaia Summit
Old Tale
Starting Off
Starting From Night
I'm Back: A Song
Thinking on a Sentiment
Marina's Plight
The Message from the Heart
Before the Final Battle
The Center of Fargaia
The Fight of the Human Race
The Returners
The Last Evil
8 Tracks in 1: Arranged
Field 1 through 4
Do Not Worry, Just Believe
Wild Arms 2 Medley
Ad blocker interference detected!
Wikia is a free-to-use site that makes money from advertising. We have a modified experience for viewers using ad blockers

Wikia is not accessible if you've made further modifications. Remove the custom ad blocker rule(s) and the page will load as expected.