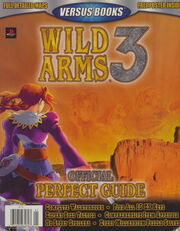 This is an English-language strategy guide for Wild Arms 3 printed in the year of 2002 by Versus Books; it was written by Steve Thomason. This guide originally came with a poster.
Product Details from Amazon.com
Paperback: 194 pages
Publisher: Versus Books (October 21, 2002)
ISBN-10: 1931886180
ISBN-13: 978-1931886185
Product Dimensions: 10.6 x 8.2 x 0.2 inches
Ad blocker interference detected!
Wikia is a free-to-use site that makes money from advertising. We have a modified experience for viewers using ad blockers

Wikia is not accessible if you've made further modifications. Remove the custom ad blocker rule(s) and the page will load as expected.