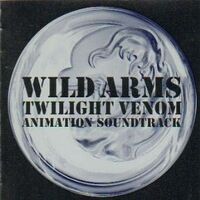 Catalog Number: SVWC-1307
Released On: January 21, 2000
Composed By: Kou Otani, Sho Wada, Michiko Naruke
Arranged By: Kou Otani
Published By: SPE Visual Works
Recorded At: Victor Aoyama Studio, Sound Inn
Number of CDs: 2
Tracklist
Track Listing:
Bird=Rain
Main Theme
Once Upon a Time on the Planet
An Old Fashioned Western Story
New Moon
Strange Phenomena
Ancient Soldiers
WANTED! DEAD OR ALIVE
Misery
Death Valley
Legends of the Arms
FIRE!
Fall into Ruins
Moonlight Concerto
Calamity Jane
Infernos
The Plot
Troops
The Dark Secret
Lost Technologies
The Coat of Arms
The Destroyer
Talk to the Moon
Memories
Destiny
Oasis
Epilogue I, Heroic Type
Epilogue II, Happy Type
Epilogue III, Tragic Type
Blow Great Guns
CONTINUOUS
The 3 Treasure Hunter Girls
Honky Tonk
Pony Race
Bazaar
An Old Love Song
Sheyenne's Blues
Kiddy Sheyenne
WEEKLY OTAKARA MAGAZINE
Roleta's Tango
Sexy and Foxy
Bad Company
Dangerous Game
Treasure Hunter
My Sweet Roleta
Roleta in a French Film
Funny Vampire
Delicious Blood
Mirabelle's Psychadelic Breakfast
Pink Fat Bat
Mirabelle's Family
Sad Café
KASHIMASHI GIRLS
Monday Morning Blues
Beastly Drunken Boogie
Shooting Stars
Granny Waltz
Into the Wilderness Anim. Version
Town Anim. Version
Town Where the Western Wind Blows Anim. Version
Resistance Line Anim. Version (Instrumental)
Alone in the World Anim. Version
Starry Sky Jet
Ad blocker interference detected!
Wikia is a free-to-use site that makes money from advertising. We have a modified experience for viewers using ad blockers

Wikia is not accessible if you've made further modifications. Remove the custom ad blocker rule(s) and the page will load as expected.