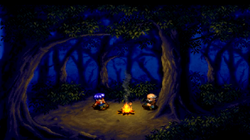 Zepet Roughknight is a character from Wild Arms/Wild Arms Alter Code: F, who raised Rudy as his grandson and brought him on all of his adventures when Rudy was a small child. He also taught Nicholi about ARMs. He is also deceased when the story begins. His name is actually meant to be translated as Geppetto, in allusion to the story of Pinnocchio (where Pinocchio in this case is Rudy as the man-made homunculus brought to life).
The little screentime he has is mostly during Rudy's flashbacks, though his character model is that of a generic old man that could found in any town. His gravemarker has a pendant shaped like a shard of medal hanging on it in the intro of Wild Arms.
Before the game, he borrowed the book "De La Metallica" from Curan Abbey using the ID "Z. Roughnight", but failed to return the book before his death. When Jack and Cecilia go to the Abbey in search of the book, Trish asks Jack and Cecilia to bring the book back, and gives them his ID.
At the end of Alter Code: F, Rudy waves at his grave before running off to catch up with Jack and Cecilia. The ending/credit movie also has the gravemarker featured in the first seconds.